The 2018 World Cup Bounce Starting XI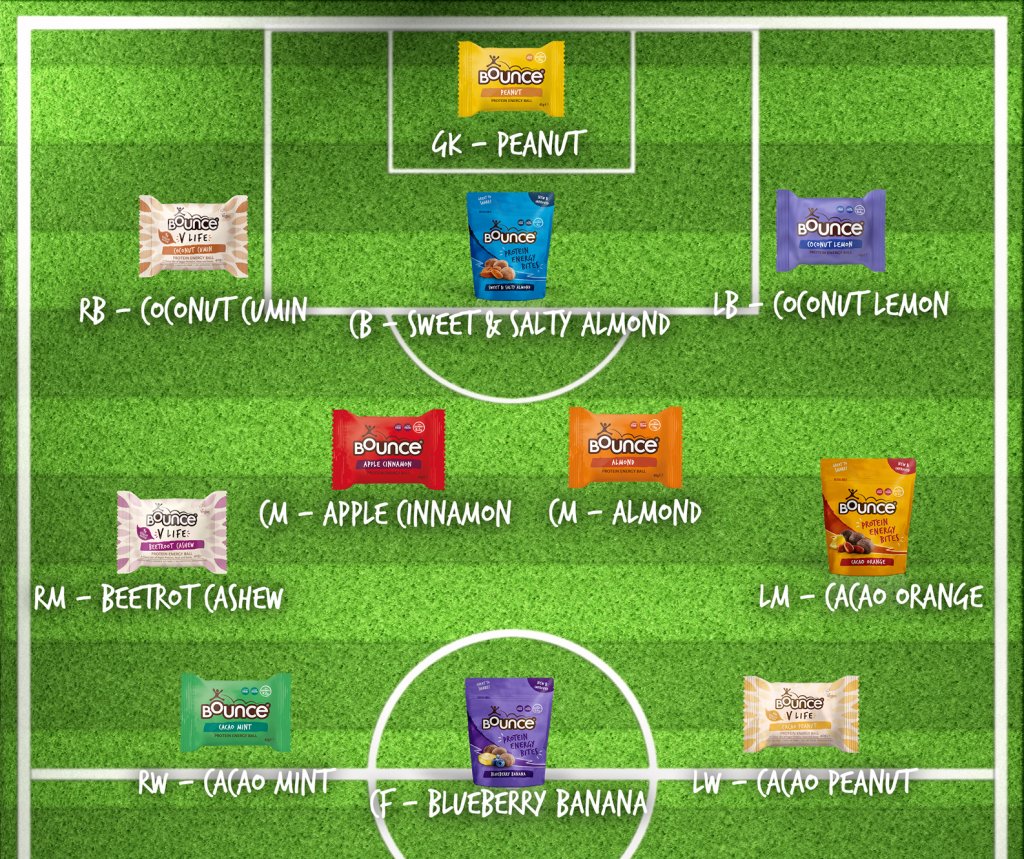 With this year's World Cup well underway, we've already enjoyed some seriously tasty, high energy performances during the first week. Enough about our products, however, and back to the football!
But seriously, World Cup fever has well and truly taken Bounce HQ by storm, so much so that we've been decided to create our very own Starting XI. Featuring our biggest stars, rest assured that this lot have enough energy to keep you going through the whole day, let alone 90 minutes…
GK (CAPTAIN) – PEANUT
Thanks to 13g of quality protein, you're always in safe hands with our relia-ball leader of the pack.
RB – COCONUT LEMON
You always need a defender with good fibre, and Coconut Lemon ticks that box perfectly.
CB – SWEET & SALTY ALMOND
Great defence requires strength in numbers and, with 6.6g of protein per serving, these bites provide more than enough.
LB – COCONUT CUMIN
Because no defence would be complete without at least one fiery character!
RM – BEETROOT CASHEW
With a hearty hit of 9g of veggie protein, this Vegan ball can beet any opposition put in front of it.
CM – APPLE CINNAMON
From midfield to mid-afternoon pick-me-up, Apple Cinnamon adds real depth and heat to our diverse team.
CM – ALMOND
Thanks to great balance and an ability to punch above its weight, Almond is an absolute must in any snacking line-up.
LM – CACAO ORANGE
Light and versatile, these protein bursts bring a whole new meaning to half-time oranges.
RW – CACAO MINT
A seasoned veteran, Cacao Mint's fresh approach has stood the test of time, becoming a true crowd favourite.
CF – BLUEBERRY BANANA
Always there when you need it, Blueberry Banana performs time and time again, putting a smile on the faces of protein pundits in the process.
LW – CACAO PEANUT
Packed full of energy and flavour, our newest signing is a big hitter and great all-rounder.